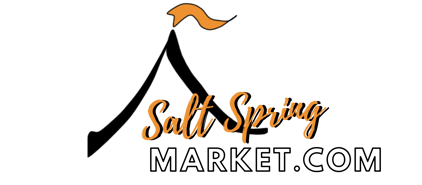 Salt Spring Island has many amazing beaches and lakes with public access. Some of them can be hard to find, but they are well worth looking for! From the beautiful sand at Beddis Beach to the tidal pools of Baker, why not get a picnic from one of the famous Salt Spring Markets and head to the beach - or take the kids to jump in a lake!
A note about lake beaches: Our lakes provide drinking water for surrounding homes. Please follow posted sanitation guidelines.
Arbutus Beach
Access this beach from the end of Arbutus road. Great variety of intertidal rocks. Long flat outcrops with exquisite sandstone lace-rock formations and more surprises when you walk off towards the left. Keep going, you'll find them when the tide is out.
Beachside Drive Beach
Bordered by woodland and a few houses this wide pebble and shell beach has views towards Long Harbour overlooking moored sail boats - a great spot for the whole family to relax! The long curving beach is quite steep with few rocks making for easy water access, and the water here seems warmer than some other spots on the the island. An easterly aspect makes for a great beach earlier in the day or a shady spot on a hot afternoon. Its a bit of a drive to get to this beach on the east side of Salt Spring Island, but we think its worth it - follow Beachside Drive to the end and then follow a short trail to the beach.
Blackburn Lake
Enjoy a beautiful lake encompassed within the Blackburn Lake Nature Reserve. A long dock overlooks the lake which is home to many species of birds. Note that Blackburn Lake is a popular locale for nude sunbathing in the summer months.
Parking is between Cusheon Lake Road and Horel Road West.
Booth Bay – Baker Beach
Access is at the foot of Baker Road, then down a flight of stairs to a flat rocky driftwood-strewn beach. Follow along to the right and this beach connects with the foot of Quarry Drive trail. A good exploring place for children of all ages and for those who like to build driftwood forts.
Burgoyne Bay Beach
Park near government dock at the foot of Burgoyne Bay Road, then climb down on the left of the dock to the long, wide sandy shore. Usually calm waters provide a peaceful atmosphere for a long walk.
Chocolate Beach
Accessible by boat, Third Sister Island (also known as Chocolate Beach) is a popular destination throughout the year for it's white crushed shell beach and spectacular views of Ganges harbour. Take the trail that runs along the spine of the island or visit the unique outhouse (a 'loo with a view'), catch a few rays on the beach or enjoy a swim in the shallow waters while watching boaters and float planes go by.
Churchill Road – Sea Star Point Beach
Located at the end of the road. A lovely little beach with driftwood and rocks for the kids to explore and wonderful harbour views for everyone!
Cusheon Lake
Very popular family beach with some shallow entry for non-swimmers and a dock for jumping and diving.
Drummond Park Beach
Community park on the southwest shore of Fulford Harbour. Popular family beach for sunning and beachcombing. An added feature is a petroglyph. Also a children's adventure playground, picnic tables and a pit toilets.
Fernwood Point Beach
Always pleasant, often fun. Features a nice long Government Wharf off Walker Hook Road. This is one of the island's best beaches at low summer tides. Walk out along sandy mud flats to the sand bar to the left of the dock. You'll find a variety of sea life including sea stars, kelp crabs, moon-snails, clams and more. Tread carefully please; these are the only LIVE sand-dollar beds on the island. Sand dollars dwell under the dock, to the left of the dock, and to the right.Walk off to the right and you'll find a rockier shore with tidal pools that are home to sea anemones, chitons, hermit crabs, rock crabs, and more. Watch out for those sand dollars! (The live ones are the black ones.)
Erskine Bay – Bader Beach
Follow Collins Road to the very end, where Maxwell (a.k.a. Cranberry) creek flows into the sea. Lots of room for parking and boat launching, swimming and exploring. Terrific afternoon/evening beach with wonderful sunsets.
Grantville Street Beach
Small parking space at the end of the street in the Walker Hook area. A good spot to see the teeming tidal flats behind Walker Hook
Hudson Point Beach
Off North Beach Road, north of Fernwood Dock. A launching ramp on tidal sand (expect mud) flats. A good place to let dogs run during the off-season. In summer months leash-laws are in place.
Isabella Point Road Beach
Look for a road side pull-off approximately 1.5 km down Isabella Point Road. Access to a wide sandy stretch along the southwest side of Fulford Harbour.
Jack Foster Beach East
Approximately 10 km northwest of Ganges at the junction or North End Road and North View Place. Hiking time is approx. 10 minutes, one way. Pleasant woodland hike alongside sheep farm (keep dogs leashed PLEASE) gets a little steep at water's edge. Limited beach access.
Long Harbour - Welbury Bay Beach
Access to the shore is beside the ferry staging area. Look for the path marked by two rock cairns a few meters up Scott Point Drive on the right. A steep rocky beach which can be explored at both Long Harbour and Welbury Bay. The south end of the 4-acre park has a small low bank beach – very pretty.
Maliview Drive Beach
A long beach that has accesses all along North Beach and Walker Hook Roads. A great spot to watch sea birds and take long walks along the shoreline. Follow this beach along to the left to reach Fernwood Dock.
Menhinick Drive Beach
Enjoy this small pocket beach with a rocky shoreline and shallow waters overlooking several small islands with shores lined with magnificent Arbutus trees. Beach access located adjacent to 133 Menhinick Drive down a dirt path and down a small staircase.
Beddis Beach
Access – near the end of Beddis Road – is marked with a small sign. Parking is no longer within the park, but on the road. One of the island's most popular beaches for sunning and splashing. Beautiful white crushed-shell ocean beach – cold water, fun for all ages. Some tidal pools off towards the right at low tide. Receives morning sun – this beach is a cool spot on a hot afternoon.
Musgrave Landing
Overland access is a challenge. You may need a 4×4 vehicle depending on road condition. A wonderful place to explore! Nice sunsets.
Ontario Place Beach
Access is at the foot of the south end of Ontario Place. Ample room for parking and boat launching.
Price Road Beach
Look for a narrow grass road about 200 meters long between two houses (east of 281 Price Road). A shell beach and at mid to low tide, a pleasant beach stroll with great views. Keep an eye out for sand dollars!
Quarry Drive – Driftwood Fort Beach
Located near the end of Quarry Drive in Vesuvius, this 2-acre beach front park is accessed by a 10-minute trail with some steep inclines to the beach just north of Booth Bay. Follow the beach to the right for adventurous boulder hiking. Follow beach to the left to connect with Baker Beach.
Rotary Maritime Park
Located in downtown Ganges, this landscaped park overlooks the harbour. Small dock can be used for kayak and dinghy launching.
Ruby Alton Nature Reserve Beach
Walk though a historic pasture on the protected Ruby Alton Nature Reserve surrounded by a unique mix of flowers, shrubs and trees - many planted by the Lucy Family who once lived on the property. A protected slice of Salt Spring Island's history, the Reserve offers access to a beach via a wooden gate on Isabella Point Road which leads to a staircase. The rocky beach offers many points of interest including a waterfall, sand dollar beds and spectacular views of Fulford Harbour and Russel Island. Keen eyes may spot Orcas, porpoises, otters and of course, the Ferry as it passes by! Note parking is limited along this stretch of Isabella Point Road and keep in mind that tenants live in the Ruby Alton house
Ruckle Provincial Park Beaches
The entire shore of Ruckle Park is great for walking and beachcombing over large flat rocks and boulders. A small cove north of the picnic area is great for swimming. Please note that dogs are not allowed in large areas of this park.
Seabright Drive Beach
Access is at the foot of Seabright, off of Menhenick Drive, then a short climb down to the beach. A pretty and sunny pocket sand beach with views of Russell and Portland Islands.
Southey Point Beach
Access this small rock beach from the end of the road with unique rock formations along the shoreline.
St. Mary Lake
Public access is a very small patch of sand with gradual safe, flat entrance to the water. This is a good spot for babies and small children that quickly becomes very crowded on summer afternoons. Sunny from early afternoon to sunset.
Stowell Lake
Lovely placid lake beach with dock and shallow sandy entrance. Popular south-end family beach.
Vesuvius Bay Beach
Popular family beach close to the facilities at Vesuvius Bay. Park on Langley Street then go down a flight of stairs to the beach. Amateur geologists will find some fascinating rock formations. Warmer ocean waters make it a good spot for swimming. Great sunsets!
Weston Lake
For swimmers only; there is no beach, just a primitive, natural public access.
Yeo Point Beach
This is a lovely pebble beach in a gently curving bay at the edge of Ruckle Park, next to Yeo Point. The water is clear (and cold!) and the beach is surrounded by lush forest. The pebbles can be hard underfoot so we recommend beach shoes. You can only access this beach by hiking (or kayaking) in - but we think its well worth it. Either follow the trails on the Ruckle park map to Yeo Point - one of our favourites it the hike from the back of Beaver Point Hall. Or for a fun alternative that is very kid friendly take the short trail from the end of Mayer Road through the fairy village. Its also worth a stroll up to Yeo Point for the view.
Zach Beach
Beach access between Pringle Farm Road and West Eagle Drive on Sunset Drive. A short hike takes you to an expansive pebble and rock beach - perfect for dogs and enjoying stunning sunsets.
Zadra Beach
Access along Sunset Drive, just south of Sir Echoes Road. Pleasant 300 meter stroll to a west-facing ocean mud bay.